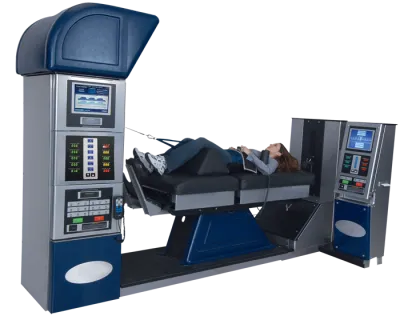 "I had surgery six years ago and I was experiencing so much pain/discomfort I was considering the possibility of more surgery. Before I tried surgery I wanted to see if the DRX would help me. I was scheduled to try PT as well. I must admit I was skeptical about the DRX especially because whenever I explained the DRX to my neurosurgeon, my general practitioner, massage therapist and others they all seemed skeptical. However, I tried the DRX because it was not invasive and did not include taking drugs. The first session did not seem to help, but after five or six sessions I was feeling better. Eventually I could drive without pain in my leg and I could go running (limited again). I would recommend the DRX to anyone considering surgery and I thank Dr. Stinson for allowing me the opportunity to try the DRX!"
- Lisa D.
"RVCC has been a life saver to me on many occasions. I have been a patient since 1988. I have come on a monthly basis to maintain a stable back and have come for special needs: after a fall, after a fender bender and after shoveling snow. My latest and greatest treatment has been with the DRX 9000. Dr. Stinson has been with me through many years of back issues and has helped me, with treatment, avoid surgery. The DRX9000 came just in time! I can now look forward to many years of active living with a positive outlook."
- Judy H.
"I have been in pain for 4 years and have been through different treatments without results, until I saw an add in the Washington Post for treating back pain with the DRX9000. I decided to give it a try, and after completing 20 treatments I am able to get up in the morning without pain. Thank you for all your help Dr. Stinson!"
- Loan N.
"DRX changed my life! I don't think I realized how unhappy I was and how much pain I was in until afterwards when everyone noticed how my personality and mood had improved. I chose DRX because I am only 25 and didn't want to have major surgery. At first the treatments were a little uncomfortable, but then I grew to look forward to my time on the machine. Previously I could barely spend a day walking around without being in pain and now I am back to a full activity level and pain free! Anyone that wants to get back to enjoying their life and living without back pain should try DRX. Thank you Dr. Stinson!"
- Elizabeth B.
"My symptoms were back pain, sciatic nerve pain, and numbness in my right leg. I had initially experienced these symptoms about 15 years ago and they increased in intensity over time. My treatment each time was conventional, i.e. therapeutic exercise and neuro-muscular reeducation. A recent CT revealed broad disc bulging at 2 levels with subsequent spinal stenosis. Again, I started the conventional treatment path when my daughter showed me an ad about spinal decompression, which led me to the DRX9000 and eventually Dr. Stinson's office. I was not skeptical about the DRX9000 at all because of all the information I heard and read. It seemed logical and made sense to me. I was rather anxious to get started with the treatments as soon as possible and what a wonderful experience it was. The treatment on the DRX9000 is relaxing and painless. After two sessions I started to feel better and today, after completing all treatments, I am pain free and able to take part in the activities I enjoy without worrying about pain."
- Siegfried W.